Destin, Florida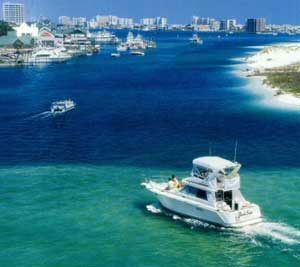 Destin can be found on Florida's Emerald Coast, known for it's pure white sandy beaches and rich emerald green waters.
The region was originally an island, but hurricanes and dropping sea levels eventually connected the island to the mainland. The construction of the Choctawhatchee - West Bay Canal in the 1940's technically turned Destin back into an island.
Destin is named after Captain Leonard Destin, a New London, Connecticut fishing master who settled in the area around 1850.
Originally a fishing village, Destin has become a popular vacation destination, with 3.5 million visitors arriving each year.
Despite it's popularity for tourism, Destin is also known as "Worlds Luckiest Fishing Village" and locals still maintain a large fishing fleet.

Several Popular Events take place each year in Destin: