Florida Everglades
The most exciting thing to do in the Everglades- is to go see it's nature. Many Eco tours are available by various mode of transportation: Swamp Buggy, Air Boat, Pole Boat, Canoe, Kayak, and Hiking on Foot.
Everglade Parks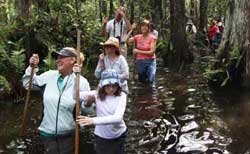 Fakahatchee Strand - This strand is accessible by boardwalk and ranger-led swamp walks one Saturday each month during the winter. A scenic drive through the preserve is popular with bicyclists.
Collier-Seminole State Park - Explore mangroves and cypress swamp by land or water via boat tours, canoe rentals and hiking trails. Tent and RV camping are available.
Corkscrew Swamp Sanctuary - World-famous among photographers, birders and other wildlife watchers, the sanctuary hosts hundreds of alligators and almost 200 bird species, including nesting wood storks.
Big Cypress National Preserve - Home to alligators, herons, bald eagles, white-tailed deer, bobcats and the endangered Florida panther.
Everglades National Park -The northern section of the main park road will take you through the park entrance, The Anhinga Trail, Long Pine Key, The Pa-hay-okee Overlook Trail, and Mahogany Hammock.
Everglades National Park - Gulf Coast Visitor's Center, Everglades City - The visitor center offers educational displays, orientation films, informational brochures, and back country permits.
Florida Panther National Wildlife Refuge - Open during daylight hours only, the trails provide the refuge visitor with a chance to experience the various habitats found on the refuge.
Ten Thousand Island National Wildlife Refuge - The refuge is part of the largest expanses of mangrove forest in North America.
Everglade Festivals