Orlando, Florida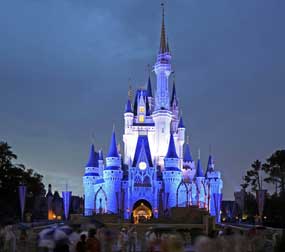 Over 51 million visitors come to Orlando every year. With 450 hotels, and over 115,000 guest rooms, Orlando offers more lodging than almost any other location in the world. Orlando has over 100 attractions, including theme parks, museums, sports and entertainment, it would take a visitor over 2 months to see everything that Orlando has to offer.
Orlando is also the place to go retail shopping, with a dozen shopping malls carrying name brands located in the heart of Orlando. Hungry visitors can choose between 5,000 restaurants, with many serving delicious cuisines from all over the word.

Travelers on foot can get around the downtown by using the I-Ride Trolley. The Trolley service runs 7 days a week, with scheduled stops at 108 locations. Weekly passes are $10 each. More information is available online at iridetrolley.com. Orlando Bus service is also quite good, visitors can use the Lymmo Bus (a Free Service) to get around Orlando's downtown. Visitors can also take tour of Orlando via Carriage ride, or Pedicab.
Orlando's Pedicab service is complimentary Tuesday-Saturday around the central downtown area, but tipping is encouraged.

Orlando has year-round outdoor recreational opportunities with more than 2,000 lakes, springs and rivers for swimming, boating, water skiing and fishing.
There are nearly 200 golf courses, an amazing 800 tennis courts and over 20 fitness trails for biking, walking or blading.
Plenty of choices, and fun for everyone!