Cape Canaveral, Florida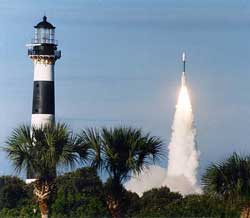 During the 16th century, Cape Canaveral was referred to "Canaveral" which refers to canebrake, because the region had a very high production of sugarcane.
Since 1947, Cape Canaveral has been the principal U.S. launching site for long-range missiles, earth satellites, and manned space flights. The area around Cape Canaveral, nicknamed the Space Coast, has attracted many nearby space-related industries.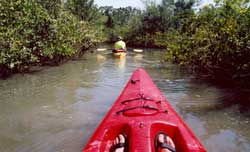 The distinctive black and white bands of the Cape Canaveral Lighthouse have marked it so since 1873. The Lighthouse is located inside Cape Canaveral Air Force Station, and as of July 2012, is open for tours.
Nature wildlife areas include Mosquito Lagoon: a group of small islands that provide important nesting areas for birds. Indian River, a waterway that forms part of the Intracoastal Waterway, Merritt Island National Wildlife Refuge located next to the space center, and Canaveral National Seashore, a barrier island park. Access to the last two parks may be restricted during launch-related activities at the Kennedy Space Center.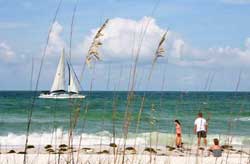 Annual Events in Cape Canaveral
Fall Fest & Annual Chili Cook Off
Spring Festival
Friday Fest
Lobster Fest
Space Coast Music Festival